SOC2 AUDIT AND COMPLIANCE CHECKLIST Prepare with a SOC Audit Checklist
SOC2 Audit if y ou are looking for compliance than there are standard sense steps you can take. Being prepared will make the auditor's job as comfortable as possible.
Your goal is to anticipate issues and try to resolve them beforehand.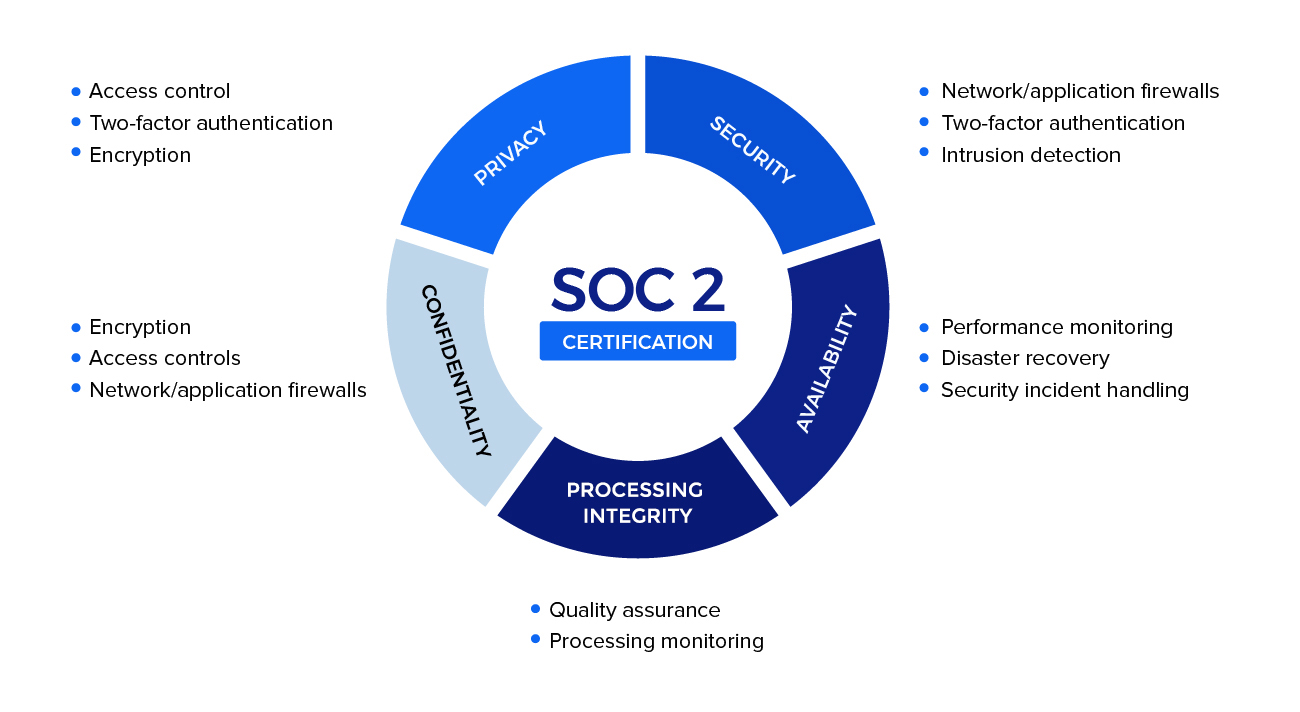 Here are six steps you can take to prepare.
Define the operating goals of your audit. You should ask yourself what your clients are most likely to want to know. You know the parameters of the SOC 2 audit. If you handle financial information, you may need a SOC 1 audit, as well.
Define the scope of your SOC 2 audits. They typically address infrastructure, software, data, risk management,  procedures, and people. You will also need to decide which trust principles to include. Any TSC you add will increase the scope of your audit. Again, choose the TSCs that are most likely to concern your clients.
Address regulatory and compliance requirements. Every industry has regulations. For example, healthcare providers must comply with HIPAA compliance while those handling credit cards require PCI compliance. Doing a review of your enterprise's compliance will help streamline the audit.
Review and write security procedures. The auditor you hire will use your written policies as a guideline. Many companies fall behind. If your systems are out of date, you should update them. If you lack written procedures for anything covered by the audit, you should create them now. Written policies will help your employees adhere to internal rules.
Perform a readiness assessment. A readiness assessment is your final chance to prepare. You can do the evaluation yourself. Alternatively, you can hire an auditing firm to do it for you as they abide by strict auditing standards. Think of it as a dress rehearsal. You can use the results to fill in holes in your audit prep.
Evaluate and hire a certified auditor.  As I mentioned before, hire someone with experience in your industry. The auditor will:

Work with you to choose agreed-upon testing dates
Give you a list of required documentation in advance of the audit
Visit your site for document reviews, employee interviews, and walk-throughs
Document the test results and review any issues with you
Provide you with a completed type II report to share with your clients
Following these six steps of our SOC 2 compliance checklist will ensure that you have a smooth audit process. It is your job to do as much as you can to prepare. Even if you think your company is in good shape, periodic reviews are a must.
You may want to put a system in place to review written procedures. Doing so on a regular basis will make sure your next audit is without problems.
SOC 2 AUDIT checklist 2021 questionnaire
What Is Included in a SOC 2 Certification Report?
What the SOC 2 reports contain depends on the type of service the organization provides.
A service organization can be evaluated on one or more of the following trust services criteria (TSC) categories:
Security – Information and systems are protected against unauthorized access, unauthorized disclosure of information and damage to systems that could compromise security availability confidentiality, integrity, and privacy of data or systems and affect the entity's ability to meet its objectives.
Availability – Information and organizational systems are available for operation and use to meet the entity's objective requirements.
Processing Integrity – System processing is complete, valid, accurate, timely and authorized to meet the entity's objectives.
Confidentiality – Information designated as confidential is protected to meet the entity's objectives.
Privacy – Personal information is collected, used, retained, disclosed and disposed of to meet the entity's objectives.
The categories above all share a set of trust services criteria known as the standard criteria.
The common principles are:
Control environment
Communication and information
Risk assessment
Monitoring activities
Control activities – which are further broken out by:

Logical and physical access
System Operational Effectiveness
Change Management
Risk Mitigation
These criteria must be addressed in every SOC audit. Depending on which TSC categories are being assessed, there may be more TSC's which needed to be evaluated in addition to the standard criteria.
With the changes made in 2017, organizations can also get a SOC 2+ report which allows the services organization to address additional criteria from other compliance standards such as HITECH, HIPAA compliance, ISO 27001, Cloud Security Alliance (CSA), NIST 800-53 or COBIT 5.
When you order your compliance audit, you can decide which TSC categories are the most important. Base your decisions on what clients are most likely to want. Doing so will ensure that clients get the information they need. They will be less likely to come back to you with questions if they are addressed in the SOC 2 report.
The key is to reassure clients that you will keep their data secure. Your organizational controls should be explained. That way, clients can be confident that their data is safe with you.

REF : https://phoenixnap.com/blog/soc-2-audit-compliance